Fire Extinguisher Training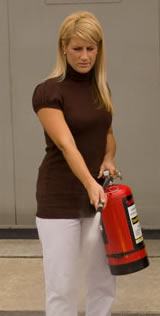 What the law says (shortened easy version!):
Suitable and sufficient instruction and training on the appropriate precautions and actions to be taken by the employee in order to safeguard himself and other relevant persons on the premises - Regulatory Reform (Fire Safety) Order 2005
Our objective for fire extinguisher training is to ensure that the persons trained understand not just how to operate a fire extinguisher but to also understand how the extinguishing media achieves this.
We cover the following subjects & more as part of our training:
A respect for fire & its potential for harm
Fire growth
Fire classifications/types
Extinguisher classifications
Extinguisher types
The fire triangle
Practical & theoretical use of extinguishers including live fire extinguishment subject to weather conditions & there being a local suitable location
Prices start from £25 per person + vat, please contact us for a quotation for your needs.
We are able to train individual persons in Brackley, Northamptonshire.